日本JaICA 代理Hexanoyl-Lysine adduct(HEL) ELISA Kit



Suitable for assessment of oxidative stress using urine, serum and cultured cells. For research use only.
已酰-赖氨酸(HEL)ELISA试剂盒,适用于尿液,血清和细胞培养样品氧化应激的评估。
仅供研究使用。
什么是己酰-赖氨酸?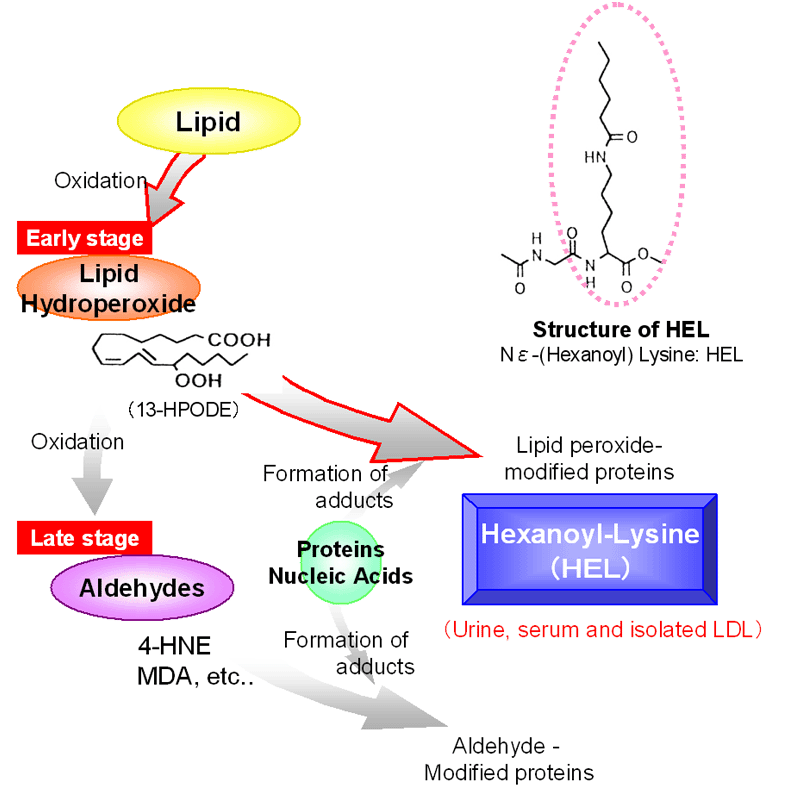 Biomarker for early stage of lipid oxidation
Oxidative damage of lipids caused by reactive oxygen species (ROS) play an important role in some diseases, lesion of cell functions and aging. Aldehydes such as malondi-aldehyde (MDA) and 4-hydroxy-2-nonenal (4-HNE) have been reported as one of the advanced lipid peroxidation products. But recently in the earlier stage of lipid peroxidation, 13-hydroperoxyoctadecanoic acid (13-HPODE) is found to be covalently bound to proteins1). Hexanoyl-Lysine adduct (HEL) is a novel lipid hydroperoxide-modified lysine residues. HEL is formed by oxidative modification by oxidized omega-6 fatty acids such as linoleic acid or arachidonic acid. HEL may be a useful biomarker for initial stage of lipid peroxidation.Monoclonal antibodies and ELISA kit have been developped, and HEL can be detected in oxidatively modified LDL, in human atherosclerotic lesions, human urine and serum. It is also reported that HEL is formed in rat muscle during exercise, and the formation is prohibited by antioxidants such as flavonoids.
由活性氧(ROS)引起的脂质氧化损伤在一些疾病、细胞功能损害和衰老中起重要作用。醛类如丙二醛(MDA)和4-羟基-2-壬烯醛(4-HNE)已被报道为先进的脂质过氧化产物之一。但最近在脂质过氧化的早期阶段,发现13-氢过氧十八烷酸(13-HPODE)与蛋白质共价结合。己酰-赖氨酸加合物(HEL)是一种新的脂质氢过氧化物修饰的赖氨酸残基。HEL是通过氧化的omega-6脂肪酸(例如亚油酸或花生四烯酸)的氧化修饰形成。HEL可能是脂质过氧化初始阶段有用的生物标志物。现在我们已经开发了HEL单克隆抗体和ELISA试剂盒,并且可以在氧化修饰的低密度脂蛋白(LDL)、人动脉粥样硬化病变、人尿液和血清中检测HEL。另据报道,大鼠肌肉在运动期间形成HEL,并且通过抗氧化剂(如类黄酮)是禁止形成的。
己酰-赖氨酸(HEL)ELISA试剂盒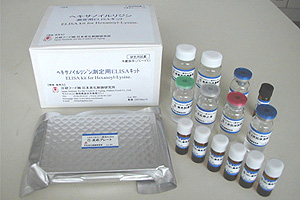 JaICA have developed HEL ELISA kit in collaboration with Dr. Toshihiko Osawa (Nagoya University) and Dr. Yoji Kato (Univerisity of Hyogo). This ELISA kit can be applied to urine, serum and cultured cells form human and animal.
JaICA公司与Toshihiko Osawa博士(名古屋大学)和Yoji Kato博士(兵库大学)合作开发了Hexanoyl-Lys(HEL)ELISA试剂盒。
该ELISA试剂盒可应用于人和动物的尿液、血清和细胞培养。
Assay principle:
Competitive ELISA (detection: 450 nm)
Specifity:
Specific to N-epsilon-Hexanoyl-Lysine adduct
Measuring range:
2 – 700 nmol/L
Time to answer:
Over night and 2 hours.
Format:
96 wells (54 samples in single assay)
Applications:
Urine, serum and cultured cells from human and animals.
Storage:
Store at 2 – 8掳C (don't freeze).
Expiry:
2 years after the day of manufacturing.
Required but not provided:
50 碌L micropipettor and pipette tips
8-channel (50-200 碌L) micropipettor and tips
8 or 12-syncronous multichannel pipet and reagent tray for multichannel pipet.
4-7 掳C incubator
Microtiter plate reader (measuring wavelength 450 nm)
技术参数
检测原理:竞争法ELISA (检测: 450 nm处);
特异性:特异于N-epsilon-己酰-赖氨酸加合物;
测定范围:2 – 700 nmol/L;
反应速度:过夜+2小时;
规格:96孔(54 samples in single assay);
应用:人和动物的尿液、血清和细胞培养物;
储存:2-8℃(避免冷冻);
保质期:2年。
Content of this kit
HEL-coated Microtiter Plate:
1 plate (96 wells)
Primary Antibody (ready to use):
1 vial
Secondary Antibody:
1 vial
Secondary Antibody Buffer:
1 vial
Chromogen (TMBZ solution):
1 vial
Chromogen Buffer:
1 vial
Washing Buffer (5X):
1 vial
Stop Solution:
1 vial
Standard solution (6 levels):
1 vial each
Plate seal:
2 sheets
试剂盒组成:
HEL-包被微孔板: 1 块板(96孔)
一抗 (即用型): 1 瓶
二抗: 1 瓶
二抗缓冲液: 1 瓶
底物溶液 (TMBZ溶液): 1 瓶
底物缓冲液: 1 瓶
洗涤液 (5X): 1 瓶
终止液: 1 瓶
标准液 (6 标准): 各1 瓶
封板膜: 2 片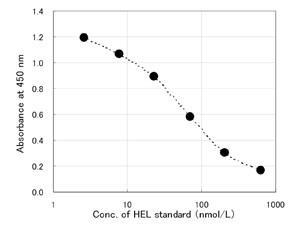 | | | | |
| --- | --- | --- | --- |
| Product name | Code | Assay range | Application |
| Hexanoyl-Lys (HEL) ELISA | KHL-700E | 2-700 nmol/L | Urine, serum, cultured cells and other biological materials |
参考文献:
1)
Yoji Kato, Yoko Mori, Yuko Makino, Yasujiro Morimitsu, Sadayuki Hiroi, Toshitsugu Ishikawa, Toshihiko Osawa, Formation of N epsilon-(hexanonyl) lysine in protein exposed to lipid hydroperoxide. J Biol Chem 274(29), p20406-20414 (1999)
Identification of HEL, which is lysine adduct of 13-HPODE.
2)
Yoji Kato, Toshihiko Osawa: Detection of lipid hydroperoxide-derived protein modification with polyclonal antibodies. Methods in Molecular Biology, vol. 186, Oxidative stress biomarkers and antioxidant protocols, D Armstrong, Ed., Human Press Inc., NJ, USA, p37-44
Immunohistochemical detection of hexanoyl-lysine adduct.
3)
Kato Y, Miyake Y, Yamamoto K, Shimomura Y, Ochi H, Mori Y, Osawa T, Preparation of a monoclonal antibody to N(epsilon)-(Hexanonyl)lysine: application to the evaluation of protective effects of flavonoid supplementation against exercise-induced oxidative stress in rat skeletal muscle. Biochem Biophys Res Commun 274(2),p389-393(2000)
Development and characterization of anti HEL monoclonal antibody.
4)
Ryo K, Yamada H, Nakagawa Y, Tai Y, Obara K, Inoue H, Mishima K, Saito I, Possible involvement of oxidative stress in salivary gland of patients with Sjogren's syndrome. Pathobiology 73(5), p252-260 (2006)
HEL can be detected in saliva samples from patients with Sjogren's syndrome.
5)
Suzuki T, Kazui T, Yamamoto S, Washiyama N, Ohkura K, Ohishi K, Bashar AH, Yamashita K, Terada H, Suzuki K, Akuzawa S, Fujie M, Effect of prophylactically administered edaravone during antegrade cerebral perfusion in a canine model of old cerebral infarction. J Thorac Cardiovasc Surg 133(3),p710-716 (2007)
Application to canine serum samples.
6)
Shimizu K, Ogawa F, Akiyama Y, Muroi E, Yoshizaki A, Iwata Y, Komura K, Bae S, Sato S, Increased Serum Levels of N(epsilon)-(hexanoyl)lysine, A New Marker of Oxidative Stress, in Systemic Sclerosis. J Rheumatol. 2008 Sep 1.
Serum HEL concentration from systemic sclerosis is higher than that from healthy subjects.
7)
Tamura H, Takasaki A, Miwa I, Taniguchi K, Maekawa R, Asada H, Taketani T, Matsuoka A, Yamagata Y, Shimamura K, Morioka H, Ishikawa H, Reiter RJ, Sugino N, Oxidative stress impairs oocyte quality and melatonin protects oocytes from free radical damage and improves fertilization rate. J Pineal Res 44(3),p280-287(2008)
Intrafollicular concentration of HEL was significantly reduced by these antioxidant treatment.
8)
Sakamoto Y, Ishikawa T, Kondo Y, Yamaguchi K, Fujisawa M, The assessment of oxidative stress in infertile patients with varicocele. BJU Int 101(12), p1547-1552 (2008)
Azoospermic and oligospermic patients had a significantly higher HEL concentration in seminal plasma.
9)
Kageyama Y, Takahashi M, Nagafusa T, Torikai E, Nagano A, Etanercept reduces the oxidative stress marker levels in patients with rheumatoid arthritis. Rheumatol Int 28(3),pp245-251(2008)
Urinary HEL level was reduced at 3 and 6 months after the initial treatment with etanercept.
10)
Rummenie VT, Matsumoto Y, Dogru M, Wang Y, Hu Y, Ward SK, Igarashi A, Wakamatsu T, Ibrahim O, Goto E, Luyten G, Inoue H, Saito I, Shimazaki J, Tsubota K, Tear cytokine and ocular surface alterations following brief passive cigarette smoke exposure. Cytokine 43(2),p200-208(2008)
HEL concentration in tear was increased by brief passive exposure to cigarette smoke.
11)
K Sakai, S Kino, A Masuda, M Takeuchi, T Ochi, J Osredkar, B Rejc, K Gersak, N Ramarathnam, Y Kato;
Determination of HEL (Hexanoyl-Lysine Adduct): A Novel Biomarker for Omega-6 PUFA Oxidation.
Lipid Hydroperoxide-Derived Modification of Biomolecules: Subcellular Biochemistry 77,p61-72(2014)
An original paper for HEL ELISA development.
尿8-异前列腺素(15-异前列腺素F2t)ELISA试剂盒 NWLSS™ Urinary 8-Isoprostane
脂质氢过氧化物检测试剂盒 NWLSS™ Lipid Hydroperoxide(LOOH) Assay Kit
8-异构前列腺素(15-异前列腺素F2t)ELISA试剂盒 NWLSS™ 8-Isoprostane (15-Iso
9(±)-羟基十八碳二烯酸ELISA试剂盒 NWLSS™ 9(±)-hydroxyoctadecadienoic ac
己酰赖氨酸ELISA试剂盒 NWLSS™ Hexanoyl Lysine ELISA Kit
丙二醛检测试剂盒 NWLSS™ Malondialdehyde(MDA) Assay Kit
抗4-羟基壬烯醛单克隆抗体 Anti 4-hydroxy-2-nonenal(4-HNE) monoclonal antibody(HNE
抗4-羟基壬烯醛单克隆抗体 Anti 4-hydroxy-2-nonenal(4-HNE) monoclonal antibody(HNE